Recently, there's been a lot of hoo-ha and accusations of racism over a self-published book by Victoria Foyt called Save the Pearls: Revealing Eden. Warning: If you decide to visit that page, there's a video of a white woman in blackface stuck on auto-play, and it is cringe-worthy.

First, a confession: I lightly collect and read self-published fiction. A lot of it is bad, but there's also a naked honesty and earnestness that you don't see in professionally-published stuff. Granted, the vast majority of self-published fiction sinks to the bottom, and the only reason Save the Pearls even managed to scrabble for a gasp of air is because Weird Tales published an excerpt of the book.

Anyway! Being a collector of sorts, I decided "Well, why not?" and added a copy of Revealing Eden to my digital bookshelf. The first half of the book made me kind of squirm and uncomfortably chuckle "Oh dear" several times over.

The second half of the book made me scroll down a lot because it's boring and has nothing to do with anything.

Have a ten-cent summary if you can swallow it: Eden is a "Pearl," a white person. She lives in an underground city that's ruled by "Coals," or black people. Most Coals are very mean to Eden, who considers herself an inferior, ugly being (and then she doesn't--and then she does--and then she doesn't). Nevertheless, Eden is desperate to mate for two reasons:

1) If she doesn't do so by the time she's 18, she'll be thrown out into the radiation-baked world to fend for herself.

2) She wants to hook up with a Coal so she can produce a mixed race baby that won't share her seemingly crummy fate.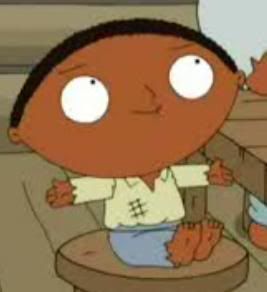 "Y'know what the best part of being half-black, half-white is? When I grow up, I'll be accepted by everybody!



Eden's father, a scientist, is working on a project that aims to combine human DNA with the DNA of a jaguar/panther, a snake, and a harpy eagle. The idea is that humans--Pearls in particular--will gain the necessary physical traits to survive the harsh, irradiated environment (yeah, don't worry, it makes even less sense as the story progresses).

Things go awry and Eden's task master, Bramford, is forced to volunteer himself as the first test subject for the Cheetahman Project. The experiment turns him into a beast-man, and he spirits Eden and her father away to the "last patch of rainforest on Earth"--inhabited, by the way, by Aztec Indians(?) that speak Spanish.

FYI, Eden hates Bramford and suspects the worst out of him, and he turns out to be a Nice Guy™ who really loves her. Whoops. Spoilers.

More spoilers: Pretty much nothing goes on after the group escapes to the jungle. Bramford and Eden fall in and out of love, and there's some bulldonk about Bramford's previous mate (also a Pearl) and a son he keeps locked up for "his own good," but my brain kind of seized up at the constant sexualization of Beastman Bramford. Good Lord Eden, even Bella Swan had the decency to only lust after Jacob when he was in his human form.

Incidentally, Foyt has come under a lot of fire for using Bramford to perpetrate the "bestial black man" stereotype. There's an additional problem, but I admit it's all mine: Despite my best efforts, I can only picture Bramford as the behemoth-thing that Vincent Valentine transforms into in Final Fantasy VII.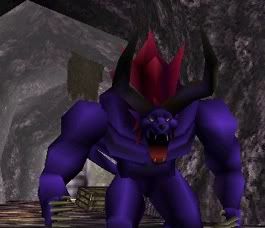 "Oh, Lucretia--only you understand the man behind the beast--er, shit. I mean, oh Eden--"



Foyt has responded to criticism by claiming she wants Save the Pearls to make us think about issues of race, oppression, and environmental degradation, especially climate change. That's a laugh, because she drops everything once the characters enter the rainforest. Which, by the way, is brimming with exotic fauna and flora even though utter ozone depletion is supposed to have turned the Earth into God's own x-ray machine.

Stories of "reverse oppression" can work if the author is capable of handling them skillfully and sensitively (I'm told Noughts and Crosses is a good example, though I need to read it myself). First and foremost the author needs to believe in his or her world, and a big problem with Save the Pearls is Foyt's lack of basic world-building skills.

For instance, she never specifies the nature of the disaster that hit the planet. Supposedly, the aforementioned ozone depletion made it far easier for white people to catch "The Heat" (skin cancer), which wiped 'em out and left black people as the planet's majority (nevermind that the current majority of the planet is darker-skinned peoples). The melanin-rich black people took the opportunity to crush whitey, because--I don't know. Foyt never specifies.

The problems I have with this scenario, besides the obvious:

1) If solar radiation is severe enough to wipe out most of the world's white population with a one-week episode of skin cancer, there's no way any human would be able to survive, period. Yes, melanin protects against sunburn to some degree, but there comes a point where them rays are just gonna go "ziiiip!" through your intestines and cook your goose. It don't matter if you're black or white, baby.




2) Early in the book, Eden recalls a memory of her mother taking her behind some protected glass and showing her a parched, barren world that cannot sustain life, and yet--

3) Eden is perfectly OK in the jungle, outside of being uncomfortably hot at first (poor child). Going by Foyt's descriptions, it's business as usual for the sun over this tiny patch of rainforest that somehow managed to survive worldwide desertification, weather pattern alterations, and massive climate change.

4) Hold on!--the book mentions that some of the Aztec children are scabby, red, burnt, and showing signs of advanced skin cancer--

5) --and then they're not. They're actually very happy with their simple lives, because they get to run around naked with their pet monkeys and parrots and be one with the Earth. Eden learns so much about what's truly important!

6) Oh wait--the Indians are forced to live beside a polluted river that's full of oil, trash, and animal carcasses. Okay, so Foyt's less-than-romantic description of aboriginal life actually reflects the poverty and squalor that's a sad reality for many--

7) Sorry, scratch that. The rivers and lakes are suddenly pristine, and Eden drinks from them constantly. The Indians grow their own food, and it's so delicious and healthy.

8) But--but the rainforest tribe needs to stay under the thick tree canopy to remain protected from the sun's harmful rays, right? Right?...

9) No, turns out there's a city nearby (even though we've been told that humans fled underground ages ago), and the natives travel there often.

10) Hey, while we're on the subject of El Sol, how effectively does putting on blackface help protect humans from radiation versus, say, a big ol' radiation suit? Why do humans even need protection from skin cancer when they live far, far underground? There's some talk about "going outside at night"--but for what? The narrative establishes that there's nothing outside the catacombs. Do people just crave the novelty of pissing on the cracked dirt? And--Eden! Why do you keep obsessing over your mandatory mating even when you're far outside the reach of the "Uni-Gov?"

What? Why? How?? I--I--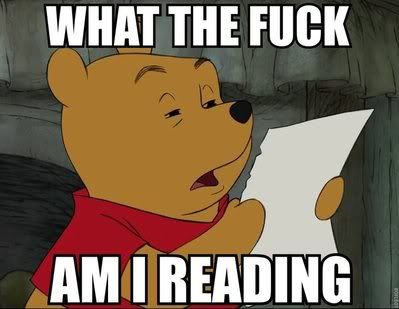 Needless to say, the "SCARY FUTURE!" portrayed in Save the Pearls: Revealing Eden doesn't exactly rival Winston Smith's bread-and-gin lunch from the opening pages of 1984. And if you put heavy messages about racism and oppression on a shaky table, it's all going to come crashing down on your skull.

Sorry Foyt, but to put it simply:




Speaking of "Next Time," I can't wait to read Revealing Eden's upcoming sequel, Adapting Eden!

And by "Read" I mean "Eat a big sandwich," and by "Revealing Eden's upcoming sequel," I mean "Play a lot of Nintendo."

Okay, to be serious, I hope Foyt learns from this experience and works to salvage her writing. Nobody's perfect, right? The idea is to say "Whoops, I fucked up," and aim to do better next time. Her first task is to cease defending her book's themes in the guise of Eden herself.

We'll see how it goes.

Bye-Bye!